Your oral health depends on a properly aligned bite, healthy soft tissues, and strong connective tissues and nerves. When any of these are out of sync, you may have tooth, mouth or jaw pain and difficulty maintaining good oral hygiene.
Dr. Keith Warr and Dr. Margaret Hyams
offer full-mouth restorations in Salt Lake City, Utah, that combine two or more restorative dentistry options. This combination of restorative and cosmetic dentistry ensures a correct bite alignment. It treats compromised teeth to provide a fully functioning mouth and protects your teeth from wear and tear, fractures, and bacteria.If you are missing one or more teeth or have oral health concerns, contact our experienced dentists and team at Warr Dental today at 801-355-5385 to schedule your dental exam and consultation. Dr. Warr, Dr. Hyams and our skilled team provide dental services to patients in nearby areas of Utah, including West Valley City and Draper.
Schedule a Consultation Today
A full-mouth restoration can correct:
Crooked teeth
Gaps between teeth
Decayed or deteriorating teeth
Discolored or stained teeth
Missing teeth
Teeth that are worn out or uneven
Worn-down teeth can contribute to a subtle but significant breakdown in the entire structure of your lower face, creating an aged appearance and an improper bite. Worn teeth also tend to get shorter, chipped and discolored.
What Is Restorative Dentistry?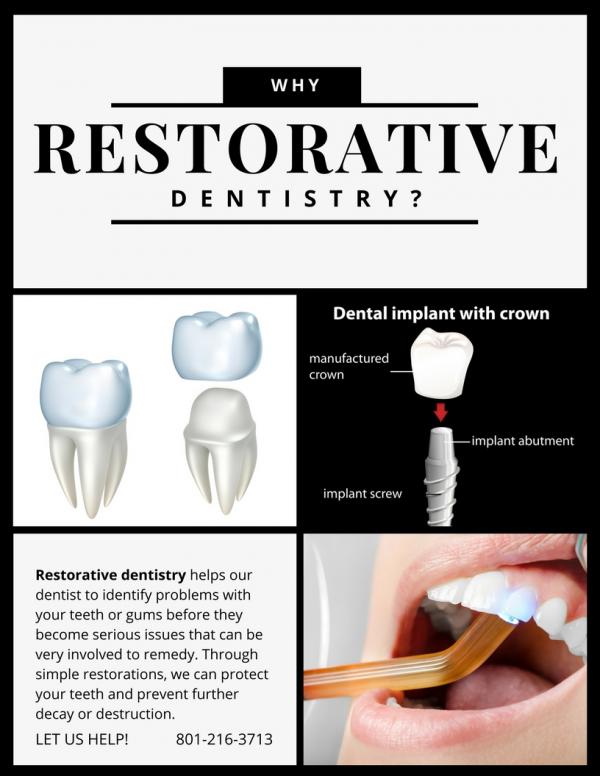 Restorative dentistry involves the diagnosis, prevention and treatment of tooth, gum and jaw problems. This process of correcting and restoring oral health typically addresses issues such as oral disease and decaying, cracked or missing teeth. There are many reasons your oral health may be suffering, and our dentists and team offer a variety of restorative dentistry options to give you back a healthy smile you are proud to show off.Restorative dentistry often involves tooth-colored (or white) fillings, porcelain crowns and bridges, dental implants, dentures, partial dentures, and gum treatment.
Our Full-Mouth Restoration Options
Full-mouth restoration refers to a custom combination of cosmetic and restorative dental procedures that may need to be performed on some or all of your teeth. Full-mouth restoration completely repairs and enhances the form and function of your teeth. It may include:
Fillings
We offer silver amalgam and tooth-colored composite resin fillings for cavities. While amalgam fillings — often called metal fillings — are perfectly safe, they can impede the beauty of your smile; in which case, the tooth-colored counterpart would be best to restore your smile. Tooth-colored, or white, fillings are made to match the shade of your adjacent teeth.
Porcelain Crowns and Bridges
Porcelain crowns are customized tooth caps that restore the shape, size and appearance of a damaged tooth or dental implant. Bridges involve using artificial teeth to fill the gap caused by missing teeth. Porcelain crowns and bridges can restore a full mouth and come with additional cosmetic benefits, such as addressing tooth discoloration and chips.
Dental Implants
These are artificial tooth roots that are placed into your jawbone and connected to permanent synthetic teeth. Dental implants restore your smile and prevent further gum and bone recession caused by missing teeth. They are considered the most effective way to restore oral health and full function.
Dentures and Partials
Dentures are removable and can be complete, meaning they replace all teeth when none are remaining, or partial, meaning they replace missing teeth when very few teeth are left in the mouth. Dentures and partial dentures can provide a complete smile, but they will not prevent bone resorption. Dental implants are the best way to restore a fully functioning mouth as the titanium tooth root replaces your lost tooth root, which prevents jawbone degradation and maintains facial structure.
Gum Treatment
Several studies have linked gum disease to severe health concerns such as heart disease, stroke and diabetes. Gum treatment can involve deep cleaning, medications, gum recontouring, bone and tissue grafting, and surgery. Aging adults are at a higher risk of gum disease, especially if they have uncontrolled diabetes.
Cosmetic Dentistry
Multiple cosmetic dentistry options can be incorporated into your full-mouth restoration, such as
porcelain veneers
and
teeth whitening
. Porcelain veneers are thin shells that go over your existing teeth to correct tooth flaws. If you are having dental implants, porcelain veneers or a crown, teeth whitening can be an excellent complementary treatment for those options to help your whole smile be bright.
Neuromuscular Dentistry and TMD Treatment
Serious pain in your jaw, significant headaches and other annoying symptoms may signal a more serious condition called temporomandibular joint (TMJ) disorder (TMD). In this case, a full-mouth restoration may combine the science of neuromuscular dentistry with cosmetic dentistry to restore a smile that is functional and healthy, in addition to being visually appealing.A full-mouth reconstruction may also involve
oral surgery
, orthodontics and
teeth bonding
.
What Should I Expect From a Full-Mouth Restoration Consultation?
At Warr Dental, we understand that you are unique. Dr. Warr and Dr. Hyams will tailor an affordable cosmetic and restorative dentistry solution that is right for you. Our state-of-the-art facility guards your safety, and our comfortable and friendly environment offers you peace of mind. During your full-mouth restoration consultation, our dentists will evaluate your oral health and the state of your teeth, gums and jawbone density. We will discuss your cosmetic goals for your teeth and develop a treatment plan to restore full function while also providing a stunning smile.
Why Choose Dr. Warr for Restorative Dentistry?
Dr. Keith Warr has completed several advanced courses in implant restoration and cosmetic dentistry. Dr. Warr is a member of the Utah Dental Association, the International School of Dentists and the American Dental Association®. He is also an adjunct professor at the University of Utah School of Dentistry. When you choose Warr Dental, you can trust that you are in well-trained hands for your dental needs.
Schedule a Client Consultation
If you would like to know more about your restorative dentistry options, please schedule a free consultation at Warr Dental in Salt Lake City today by calling us at 801-355-5385 or by
scheduling a virtual consultation
.Read what our patients are saying!Kind, gentle, with convenient appointment times and TVs in the ceiling! Best dentist I've visited in Utah. – Shem G.
Click here to read more reviews