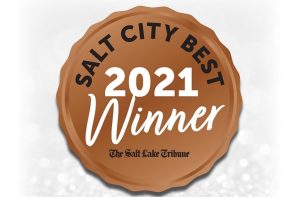 Warr Dental has been identified by the Salt Lake Tribune as one of the three Best Dental Practices in SLC. Featured in the paper's new Salt City Best magazine, we are honored by this recognition and want to thank everyone who took the time to vote for our practice.
With "over 7,000 businesses, organizations, and individuals competing to be named in the top three spots of 323 categories," the editors of Salt City Best received more than 25,000 votes from patrons, fans, and friends of the nominees. There are dozens of dentists in and around Salt Lake City. We are humbled by our new distinction and look forward to continuing to provide the safest and most effective dental services to people of all ages living throughout the area.
Our Services
Warr Dental is a family dental practice. We offer a comprehensive range of general dentistry services including routine cleanings and examinations, tooth-colored fillings, root canal therapy, crowns and bridges, and bad breath treatment. Compassionate, thorough, and kind, our dentists and staff offer these and other age-appropriate services for people aged one to 100+, and we maintain family-friendly office hours – 7 am to 7 pm – to meet the scheduling needs of all of our busy patients.
In addition to various general dentistry options, Warr Dental offers several cosmetic dentistry services that can restore strength and beauty to smiles impacted by aesthetic and functional issues. From simpler services like teeth whitening to more advanced options like dental implants and complete smile makeover, we can address both minor and pronounced cosmetic imperfections to produce the healthy-looking and attractive smile you deserve.
Specialty Dentistry
Our dentists can help you achieve a strong and healthy smile through cosmetic and general dental services. We can also help with neuromuscular issues such as TMJ, sleep disorders including snoring and sleep apnea, and other issues that can impact your oral and systemic health.
At Warr Dental, we are fully committed to the health and happiness of each patient we see. If you are looking for one of the Best Dentistry Practices in Salt Lake City, please give us a call at 801-355-5385 to schedule an appointment today.