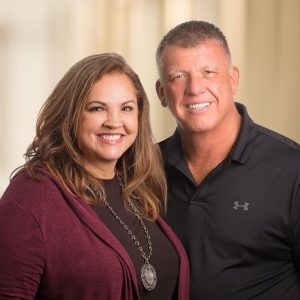 Don and Melissa (Actual Warr Dental Patients)
When a partner improves their smile with porcelain veneers, the changes can be profound. Sometimes, this transformation is inspirational, prompting the other partner to start considering the process themselves. This was certainly the case for Don and Melissa, a married couple who both chose Warr Dental for their smile restorations.Melissa received her veneers first and, based on her exceptional experience, Don admits to having high expectations when he came to us. Citing our team's commitment to building strong and healthy smiles from the foundation to the top, Don has said we surpassed those expectations, providing him with a smile that equals Melissa's in strength and aesthetics while producing a look that is both more masculine and entirely personalized.
Melissa and Don had different concerns when they came to our office. Perhaps you and your partner do as well. Dr. Warr and our committed staff of experienced dental professionals take time to understand the needs of each individual and expertly craft smiles that are healthy, strong, beautiful, and based on the specific needs and desires of the patient. If you are considering a procedure, contact us today to schedule a consultation and let us help you and your partner achieve smiles that match your personality and your goals.
What Can Veneers Fix?
Porcelain veneers can be used to fix a wide range of cosmetic concerns including:
Gaps and spaces
Crooked tooth presentation
Irregularly shaped or sized teeth
Severe tooth discoloration
Chipped or cracked enamel
Often provided in combination with general services for optimally healthy teeth and gums, veneers can transform your smile by producing a look that is clean, uniform, and ideally shaped for your mouth. We look forward to talking with you and assessing your needs to help you reach all of your oral health and beauty goals.
Contact Us Today
To schedule a consultation, please call Warr Dental at 801-355-5385 today. Our Salt Lake City office is open until 7 pm Monday through Thursday and open at 7 am Tuesday through Thursday, allowing us to schedule around your family's needs. We welcome multiple family members at the same time to make scheduling that much easier.