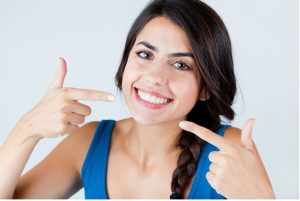 Straight teeth are often seen as a sign of health and vitality, and they are a crucial element of a perfect smile. While braces have long been the primary treatment for straightening teeth, porcelain veneers can also help you get a straight, gorgeous smile, without enduring months of wires and brackets associated with traditional braces.
As an LVI Fellow, Dr. Keith Warr is among just five percent of cosmetic surgeons in the nation trained in the art of advanced aesthetics, including porcelain veneers. He has helped countless patients achieve strong, healthy, beautiful smiles, and he can help you, too.
What are Porcelain Veneers?
Porcelain veneers are thin shells of dental ceramic affixed to the front of the teeth to conceal imperfections and create a stunning smile. When placed by Dr. Warr, your veneers will blend seamlessly with your natural tooth structure, creating a smile that looks aligned, bright, and flawless.
One of the most versatile dental procedures today, porcelain veneers can address a wide range of cosmetic issues, such as:
Chipped teeth
Cracked teeth
Gapped teeth
Uneven teeth
Stained and discolored teeth
Teeth with minor misalignment
Why Are Veneers Called Instant Orthodontics?
Veneers are sometimes referred to as instant orthodontics due to their ability to create straight, beautiful smiles in just two to three office visits. That's two to three weeks instead of the months and years required for conventional braces. However, it's important to note that veneers don't actually straighten teeth; they mask the front surface of your teeth, hiding gaps and misalignments.
In addition to saving time with veneers, instant orthodontics improve much more than just the alignment of your teeth. They can improve the shape and color of your teeth, creating a dazzling smile you can be proud of.
Schedule Your Free Porcelain Veneers Consultation Today
If you would like to learn how Dr. Warr can help you get a bright, beautiful smile with porcelain veneers or other cosmetic dentistry option, contact Warr Dental today online or at 801-355-5385 to schedule your free consultation. We happily welcome patients from throughout Salt Lake City and other nearby areas.